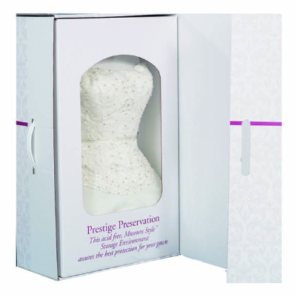 Gown Preservation
From the most delicate beading to the toughest stains, our museum-quality preservation process ensures your wedding gown is kept in pristine condition for generations to come.
After preserving your gown, we package it in our exclusive storage box customized to guarantee your gown will not yellow or oxidize, retaining its value and preserving it for years to come. We offer a lifetime warranty, if for any reason, you are not completely satisfied, your Prestige Preservation Program Licensee will re-clean and preserve the garment at no charge.
Gown Steaming
All Bridal Manor dresses are steamed upon arrival, to ensure they look perfect for your special day. We also offer a complimentary second steaming the week of the wedding for Bridal Gowns, to take out any wrinkles that may occur during the alteration process.
Alterations
While we do not offer in house alteration services, we are happy to provide recommendations to seamstresses that have done quality work with our Brides over the past 12+ years.